Why Paver Sealing Is So Important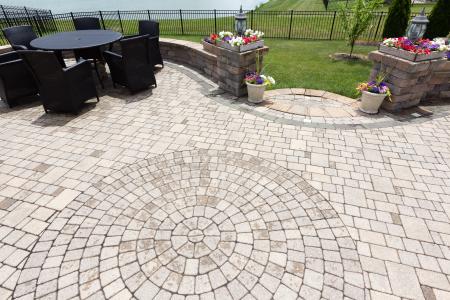 Having a paver walkway, patio, or driveway enhances any property with plenty of charm and curb appeal because these surfaces never fail to please the eyes. But, like any other exterior surface, paver surfaces need some help if they're going to keep up with demand and withstand the elements, and that's where the professional pressure washing technicians at Solomon and Sons Pressure Washing comes in. Our paver specialists have just the service you need to ensure your pavers always look their best and are able to last for a long time to come.
Keep Your Pavers Beautiful
Here in Florida, it isn't uncommon to see paver bricks or stones that are dull, faded, or covered in grime. Paver surfaces that aren't sealed lose their original texture and vibrancy, which can turn them into an eyesore instead of an attractive feature that elevates the charm of your property.
Paver sealing will put a durable coat of sealant on your entire surface, preventing color loss and dullness. Sealed pavers are more aesthetically pleasing and help them hold their beauty for much longer than they otherwise would.
Prevent Staining
If your pavers ever get stained, chances are you'd have to hire a professional pressure washing team to get them spotless again. While there's nothing wrong with having your pavers professionally cleaned, sealing your pavers might be a better investment.
Sealants will prevent substances such as oil, grease, and other contaminants from seeping into your pavers. Once professionally sealed, you won't have to worry about your pavers picking up any stubborn eyesores.
Minimize The Risk Of Cracks And Deterioration
Any pavers that crack or begin to crumble apart need to be tossed out and replaced, and that can be an expensive project for any property owner. Paver sealing can prevent any moisture from seeping into your pavers, minimizing the risk of them deteriorating.
Make Maintenance Easy
Without the appropriate sealant coating your pavers, whenever you want them to be clean and spotless, you'd have to enlist the help of a pressure washing specialist. Unsealed pavers are like magnets for substances such as dirt, bird droppings, algae, mildew, and vegetation, and removing these eyesores is much too difficult and time-consuming for the average homeowner to do on a regular basis.
Paver sealing makes maintaining your paver surfaces a cinch. Instead of trying to wash off the grime and other filth, most sealed pavers only need an occasional sweep. The protective sealant prevents any contaminants from attaching to the surface below, and that makes keeping your pavers gorgeous simple, and easy.
If you need professional paver sealing in the Winter Haven area, call Solomon and Sons Pressure Washing at 813-479-5556 today.
Contact Solomon and Sons Pressure Washing to Wash Your Winter Haven Home Today!