Patio Cleaning For Stress-Free Exterior Spaces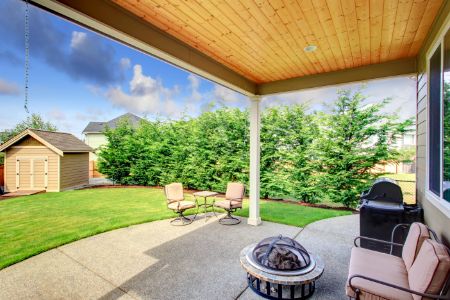 Patios are the perfect spaces for taking in the fresh air and chatting with our loved ones, but when they get filthy, Winter Haven relies on Solomon and Sons Pressure Washing to clean them up. If you ever need professional patio cleaning that's affordable and reliable, you won't find a harder working team than us!
Everyone loves a comfortable, inviting patio, especially down here in the Winter Haven area. Solomon and Sons Pressure Washing knows the value of a gorgeous patio, and we know what it takes to get these cherished outdoor spaces healthy and spotless. People know that our pressure washing services are unmatched when it comes to achieving stellar results, and that's a reputation we'll always uphold.
If you're in the Winter Haven area, you can depend on Solomon and Sons Pressure Washing for patio cleaning and first-rate pressure washing services like:
Roof Cleaning
Fence Cleaning
Paver Sealing
Pool Deck Cleaning
Driveway Washing
And Much More
Nobody wants to hang out on a filthy patio, so give Solomon and Sons Pressure Washing a ring before it gets to that point! Call us for a free quote at 813-479-5556 for expert patio cleaning in Winter Haven.
Outdoor Living Area Washing Professionals: Worry-Free Exterior Surface Care
Patio cleaning is best done using pressure washing technology that can quickly and reliably adjust its PSI. At Solomon and Sons Pressure Washing, our staff uses only advanced pressure washing equipment to safely remove spots, stains, and other eyesores from your patio without damaging your exterior surfaces. With our experience and premium cleaning solutions, there's no surface we can't make sparkle like new again. If you're ready for a spotless patio that you can't resist hanging out on, call Solomon and Sons Pressure Washing.
Outdoor Entertaining Space Cleaning By Trained Specialists
Anything that is constantly exposed to the elements is going to have a difficult time maintaining a healthy atmosphere and an attractive curb appeal. Patios are just as prone to getting filthy as other exterior surfaces, and only trained specialists should be trusted with the job when they need to be cleaned. Our patio cleaning experts are who Winter Haven relies on for a revitalizing clean that won't leave any spots behind.
When you trust our patio cleaning experts, you'll benefit from the following:
A spotless patio that will elevate the curb appeal of your home
Disfinected and sanitized surfaces
Removal of slippery substances and contaminants
Long-lasting surface protection so your patio can last
Frequently Asked Patio Cleaning Questions
Solomon and Sons Pressure Washing only uses eco-friendly cleaning solutions for our patio cleaning service. Our treatment won't harm your plants, lawn, or pets.
If your patio is discolored, this is often caused by algae, dirt, dust, and other contaminants. Our patio cleaning can help remove these substances and restore the beauty of your patio.
Patio cleaning is recommended at least twice a year. Keeping your patio spotless will protect your curb appeal and exterior surfaces from prematurely degrading.
Contact Solomon and Sons Pressure Washing to Wash Your Winter Haven Home Today!